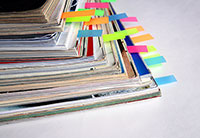 New figures obtained by RSM under the Freedom of Information Act reveal some interesting trends in the number and type of penalties imposed by HMRC against those understating income or gains.
Penalties are charged according to the type of taxpayer behaviour that leads to the inaccuracy. This ranges from a failure to take reasonable care (careless), rising upwards to a deliberate inaccuracy and finally the most serious, deliberate with concealment. The penalties can range from nil to 100 per cent of the tax underpaid, depending on the quality of the behaviour; whether the taxpayer voluntarily disclosed the error or whether he or she was prompted to do so by HMRC. Importantly, HMRC may agree to suspend penalties in relation to careless errors.
Comparing the total number of penalties imposed (154,714) for the most recent year, 2017/18, with the 172,869 imposed for 2015/16 reveals that there has been an 11 per cent decrease in inaccuracy penalties charged by HMRC. This may reflect better compliance, but we suspect it may also reflect a shortage of HMRC resources to check and detect errors.
Looking at a breakdown of the penalties, some 28,811, or 17 per cent of the total raised in 2015/16, were deemed to relate to deliberate actions, whilst in 2017/18 deliberate penalties of 36,975 - highlighting a 24 per cent increase. Of these the number of penalties determined to be in the worst category, deliberate with concealment, had nearly doubled from 3,466 to 6,160. Given the overall fall in the number of penalties charged we would like to think that this indicates that HMRC is improving identification of the worst offenders, as opposed to applying the rules more strictly than before.
However, other statistics support the theory that HMRC may be taking a harsher approach. The percentage of careless errors (which fell in total from 142,775 in 2015/16 to 116,716 in 2017/18) where the penalty was suspended has fallen from 50 per cent to 45 per cent (from 71,801 to 53,040). Due to criticism levelled at HMRC by the First Tier Tribunal, we had anticipated that suspension might be offered more readily to careless errant taxpayers. Clearly this has not been the case, suggesting a stricter approach.
We are concerned that the pressure to increase value from tax compliance checks coupled with HMRC under resourcing may be leading to a more punitive approach in respect of the less serious taxpayer errors. It is especially disappointing that penalties for careless errors are more likely to be collected than suspended. This may be an issue for unrepresented taxpayers, who might not even be aware careless penalties can be challenged and suspended.
Article by Mike Down and Sarah Saunders