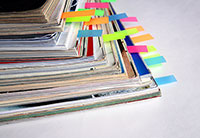 The Tax Profession's Safety Net
It is well known that the legal profession provides a safety net for people who critically need legal advice but can't afford to pay for it. Less well known, a similar facility exists for vulnerable people who need tax advice. It is provided by the two Tax Advice charities and the demand for their services is rising.
Advice Changes Lives
Not only businesses and the better off need tax advice. Some people on low incomes desperately need tax help and without it they and their families can suffer significantly.
The problem may not start with tax. It can be triggered by mental or physical illness, a learning disability, or loss of a family member, home or business. But the resulting tax problem can become critical and overwhelming if they can't afford professional advice.
Unrepresented and vulnerable people struggle with a myriad of tax problems. Some are unnecessarily caught up in self assessment – even though they have no tax to pay – and so get into late filing penalties which just keep building or HMRC investigations which they don't know how to respond to. Others don't understand multiple tax codes on their small incomes and pensions. Worse, some abusive employers get them into inappropriate self-employment or under declarations for tax. All these people critically need help.
The problem is getting worse:
the working environment is harsher with more in low paid work – some in multiple small jobs and others in low income self-employment; and

the tax regime is more difficult: for example through changed law or HMRC practice (eg late filing penalties) and greater focus on debt collection – understandable changes but harsh for vulnerable people on low incomes.
The two sister charities TaxAid and Tax Help for Older People specialise in helping those least able to cope who need tax advice but can't afford to pay for it. They give advice and where necessary act for the client. Their help makes a huge difference, is frequently life changing and gets the client back on their feet.
In effect they provide the tax profession's safety net.
But demand for their services already outstrips our resources and is increasing rapidly. In response they have launched their urgent 'Bridge the Gap' appeal to the tax profession to help them help more vulnerable people in need.
Do please consider supporting this important work either through a personal donation or perhaps by holding a team event to raise funds. All funds raised will help make a real difference.
Donate at www.bridge-the-gap.org.uk
Contact Gary Millner if you would like to learn more about the profession's safety net.
Contact Details
Gary Millner, CEO of TaxAid and Tax Help for Older People, email gary.millner@taxvol.org.uk