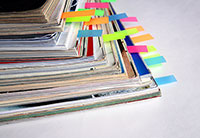 Peter Vaines highlights a recent Upper Tribunal decision concerning Inheritance Tax Agricultural Property Relief.   
The Upper Tribunal has now heard the appeal of HMRC in the case of HMRC v Atkinson [2011]. This
case concerned a claim for Agricultural Property Relief for a property which had been let under an agricultural tenancy to a farming partnership. Although Mr Atkinson had left the property to go into long term residential care, the First Tier Tribunal considered that the partnership continued to occupy the property for the purposes of the agricultural partnership and therefore it represented agricultural property and eligible for the relief.
The Upper Tribunal examined what properties are eligible for Agricultural Property Relief and in particular, a farm cottage occupied for the purposes of agriculture. The Tribunal noted that this is a difficult test because for example, a farm cottage which is the home of an employed agricultural worker and his family would not seem to be used for agricultural purposes. No farming activity takes place – it is merely a residential facility provided to the worker by the farmer. Instinctively however a farm cottage is obviously agricultural property – although it might not be if it were for example let to somebody having nothing to do with agriculture. Accordingly, what makes the cottage an agricultural property? It is the connection between the residential use of the cottage and the agricultural purpose. It was acknowledged that a temporary period of non occupation would not necessarily lead to a loss of relief but it would become a matter of fact and degree whether the cottage remained occupied for the purposes of agriculture after somebody left it.
Mr Atkinson was a partner in the farming partnership and before his move into the care home it was occupied for the purposes of agriculture. However, once Mr Atkinson had gone into the care home the Upper Tribunal said it was impossible to conclude that it was occupied for agricultural purposes.
The First Tier Tribunal had taken the view that the partnership occupied the property as a matter of law even though Mr Atkinson was the only person actually residing there and the partnership's occupation continued until Mr Atkinson's death.
The Upper Tribunal said this was wrong. The First Tier Tribunal did not apply the correct approach and their decision could not stand. The property was not occupied for the purposes of agriculture immediately before Mr Atkinson's death and had not been so occupied since it became apparent he would never return to live there – nor had the partnership made use of the property in any other way.