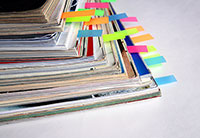 HMRC are proposing to limit the range of benefits in kind (BIKs) that attract income tax and/or National Insurance contribution (NIC) advantages when provided as part of salary sacrifice arrangements.
Background
In the view of the Low Incomes Tax Reform Group (LITRG), and particularly in the current economic climate, it is understandable that some employers and employees would want to enter into a salary sacrifice arrangement in exchange for other benefits. LITRG therefore has strong reservations about the proposals to remove the tax and NIC advantages from all 'new' benefits in kind supplied through salary sacrifice schemes on a blanket basis as it will damage arrangements used by lower income workers, for example NHS nurses who make modest savings by salary sacrificing into a workplace parking scheme.
LITRG suggests more targeted measures
LITRG suggests that if HMRC want to make some savings in this area, then they should consult instead on the possibility of a more targeted course of action, for example by limiting tax reliefs to a certain amount as is the case for childcare vouchers.
The group also strongly urges the government to consider possible options for providing relief to employees who are paid at or near the minimum wage and who are not be able to participate in salary sacrifice arrangements for things like pension saving and childcare vouchers.
Appeal for careful drafting of the legislation
Should the government press ahead with these proposals, it is vital that the legislation is drafted carefully. LITRG is particularly concerned about arrangements where an employee can choose between taking living accommodation offered by their employer or getting a higher cash wage and arranging their own living accommodation, as are found among low-paid farm workers and care workers. The group assumes it is not – and indeed strongly suggests that it should not be – HMRC's intention to catch such arrangements.
Useful links
HMRC's consultation document
LITRG response to the consultation document