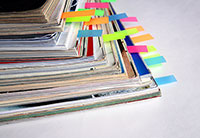 Stay ahead of the crowd with the latest planning tips and news for accountants and tax professionals.
To celebrate our one year anniversary of the launch of Tax Insider Professional newsletter we've brought back our fantastic introductory offer:
£100 discount for the first year
£50 lifetime discount thereafter
BONUS 1 - FREE download of the last 12 issues - over 70 articles
BONUS 2 – FREE ring binder
BONUS 3 – FREE new e-book 101 Practical Tax Tips
Written by leading tax experts, Tax Insider Professional newsletter focuses on the topics and issues that tax professionals face on a day-to-day basis, ensuring you are always kept up-to-date with the latest news and legislation.
Commitment free offer: with a 14 day trial and a 90 day money-back guarantee you can secure the lifetime discount risk-free.
Launching 13 September to 20 September.