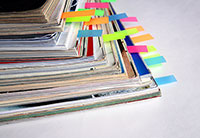 BKL looks at the key changes to taxing capital gains on property coming in April 2020.
Introduction
On 6 April 2020, capital gains tax (CGT) on property is changing. This is likely to have a significant effect on the amount of tax you hand over to HMRC following a property disposal.
There will be three significant changes to the current legislation:
Lettings relief
Currently: if a property is at some stage an individual's main residence and also has a period when it was let, there is potential CGT relief on up to £40,000 of any gains. Where the property is jointly owned, each owner would receive the £40,000 relief.

From April 2020: this relief will only apply if the letting was undertaken whilst the owner(s) were living in the property.
Principal Private Residence Status
Currently: where a property has been a main residence for the last 18 months of ownership, even where you are not living there, this is treated as the principal private residence period and exempted from tax.

From 6 April 2020: this period will be reduced to nine months.
CGT Liability
Currently: where a CGT liability arises, this is reported via a tax return and paid by 31 January following the end of the tax year in which the disposal is made.

From April 2020: a provisional calculation of the gain will need to be submitted and the arising tax paid over to HMRC. The gain will still be reported on the tax return and adjustment can be made at this point. In reality, whilst tax may be calculated and paid at a rate of 28%, some of the gain may fall within the 18% yet this would not be known until the tax return has been completed.
If you are thinking of selling or gifting a property, we can assist you by determining the cost differences in doing so pre- and post-April 2020.
The New Legislation in Action
Here is an example of how significantly the CGT changes could affect a property that is jointly owned. There's a detailed workthrough of this example on our website here.
A property has been valued at £1m. It was purchased 20 years ago for £250,000. It was a main residence for the first 10 years and then subsequently let for 10 years.

Under the current CGT rules, CGT (at 28%) on a disposal would be £29,173 for each owner, due by 31 January 2021.

Under the new CGT rules from April 2020, the CGT (at 28%) on a disposal would be £44,231 for each owner, due 30 days after completion.
This shows that due to the change in legislation, the couple would be more than £30,000 worse off should the property be sold post-April 2020! So if you are thinking of selling or gifting a property, you will want to plan accordingly.
Our tax advisers can help you to determine the cost differences between a property disposal before April 2020 and a property disposal post-April 2020, helping you to make the right plans for your circumstances. To find out more, please get in touch with your usual BKL contact.