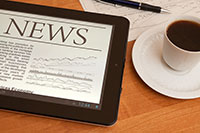 The Telegraph and other news sources are running a news story that the Chancellor will announce a major review of Business Rates in this week's Budget. This would be welcome for many businesses. Small Business Rate Relief (SBRR) has been going on for years with the kind of longevity normally reserved only for the politically charged fuel duty rise. (But, each time, extended only on a temporary basis).
However, some readers might perhaps have been wondering if this were in fact news at all: the government has been promising a review of Business Rates for some time.
More to the point, the Autumn Statement 2014 (when it was last promised) said that the review would be "fiscally neutral" (para 1.161) so, if small businesses are to hope to see an end to the "will he, won't he" of SBRR recycling, it will mean that other, presumably larger and more influential businesses will have to bear more cost.
One possible bit of good news would be to peg Business Rates rises to CPI rather than RPI. Since there has been a shift towards using the lower CPI for personal tax allowances, etc., it would seem only fair for government (or local government) also to partake of a lower annual rise.
Budget 2015: George Osborne to Unveil Major Review of Business Rates (Telegraph Article)