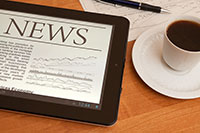 A quick guide to recent additions to the HM Revenue & Customs website.
Week ending 16 February
Charities receiving bank or building society interest - key information customer guide updated;
HMRC Brief 17/07: Clarifies that Statement of Practice SP 13/91 (Ex gratia payments made on termination of an office or employment due to retirement or death) was withdrawn with effect from 6 April 2006;
HMRC Brief 14/07: VAT : Changes to the rules on bad debt relief for goods supplied on credit terms;
HMRC Brief 13/07: VAT: Fuel Scale Charge; new CO2 basis;
CIS online services FAQs: new FAQ has been added - What information do I need to register online for CIS?
Double Taxation Convention with Ukraine, Malaysia and Guyana now available;
Shares of negligible value – list updated to 31 January 2007;
VAT Information Sheet 05/07: providing advice for health professionals affected by the changes to the VAT exemption for health following the ECJ decision in Dr d'Ambrumenil;
Tax Law Rewrite - rewrite of corporation tax (Bill 5): Draft clauses and Explanatory Notes on various topics have been published for public consultation;
Draft money laundering Regulations 2007 published for consultation;
RPI for January 2007 published (201.6);
Notice 701/49 Finance Update 1 (February 2007): VAT: Finance; and
Pensions simplification draft regulation: Standard lifetime and annual allowance regulation is now published.
Information Disclosure Guidance
Self Assessment
National Insurance
Special Civil Investigations Guidance
Insolvency
Stamp Duty Land Tax
Business Income
Employment Procedures
PAYE Online
Tax Credits Technical

Related news
HMRC announcements: week ending 9 February
HMRC announcements: week ending 2 February
HMRC announcements: week ending 26 January
HMRC announcements: week ending 19 January
Links
HMRC: What's new
HMRC: Working Together: What's new
HMRC: Tax credits: What's new
HMRC: Online Services: News