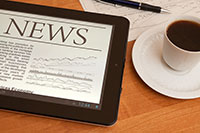 A quick guide to recent additions to the HM Revenue & Customs website.
Week ending 2 March
Charities and bond washing - HMRC has recently approached some charities about their potential liabilities under the bond washing legislation;
Pensions Tax Simplification, Newsletter No 25;
Share Schemes – EMI form EMI40(2007) now available;
Stamp Taxes: Technical, Newsletter issue 4;
Child Tax Credit and Working Tax Credit take-up rates 2004-05 published;
The Draft Corporation Tax (Taxation of Films) (Transitional Provisions) Regulations 2007 and Explanatory Memorandum;
The Draft Social Security (Contributions) (Amendment No. 2) Regulations 2007;
Distributing Offshore Funds - new updated list of certified funds as at 28 February 2007;
VAT Notice 101: Deferring duty, VAT and other charges - Update 2 (March 2007);
The Stamp Duty and Stamp Duty Reserve Tax (Extension of Exceptions relating to Recognised Exchanges) (Amendment) Regulations 2007 (SI 2007/458); and
The Tax and Civil Partnership Regulations 2007 (SI 21007/493) and Explanatory Memorandum – these regualtions make consequential amendmentss to the legislation governing the new pensions regime from 6 April 2006, so that references to "marrying" "marriage" and "spouse or ex-spouse" are updated to include civil partnerships and civil partners or former civil partners.
Related news
HMRC announcements: week ending 23 February
HMRC announcements: week ending 16 February
HMRC announcements: week ending 9 February
HMRC announcements: week ending 2 February

Links
HMRC: What's new
HMRC: Working Together: What's new
HMRC: Tax credits: What's new
HMRC: Online Services: News