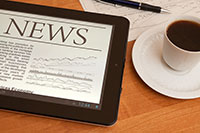 It seems TW's not alone in being unhappy with HMRC at the moment: the Adjudicator has upheld 9 out of 10 complaints about HMRC in 2013/14.
HMRC has published a press release on the Adjudicator's 2013/14 report – although it has not yet made it to HMRC's website.
The report states that, in its busiest year ever for HMRC complaints, it has upheld 90% of them in favour of the taxpayer – up from 60% in the previous year. So, not only a record number of complaints dealt with, but a record number of complaints upheld. HMRC has also had to repay about £2million in tax - almost ten times the amount in 2012/13.
Unsurprisingly, the majority of cases were in relation to PAYE and Extra-Statutory Concession A19, whereby HMRC is supposed to give up tax when it fails to act on information it has received to collect tax in a timely fashion.
TW's Mark McLaughlin had this to say:
"We at TaxationWeb – and numerous colleagues in the profession – have long been saying that HMRC has for several years been trying to marginalise claims under ESC A19.
It seems that this has come home to roost. The message from the Adjudicator's Office seems quite clear: HMRC has – systematically, based on these numbers – wrongly applied ESC A19 to the detriment of taxpayers. It is extremely worrying to think that many thousands more honest taxpayers  will simply have accepted HMRC's word, or had their claims turned down in the so-called "three tiers of refusal" which passed for its internal review procedure.
Reform is required – and not the "simplification" they tried to introduce a year or so ago, which was a thinly-veiled attempt to water down the rules in their favour.
Perhaps, most importantly, someone at HMRC needs to take responsibility and to say "sorry" for delivering such an astonishingly poor service to the taxpayer. While HMRC may try to argue that this is a very small percentage of the volume of cases it deals with, it is almost certainly a very small percentage of the many more people that have had their claims unfairly rejected. And let's not forget, HMRC was supposed to apply this concession without having to be asked in the first place."