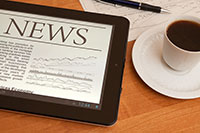 Judy Clements OBE, The Adjudicator for complaints about HM Revenue & Customs (HMRC), the Valuation Office Agency (VOA) and The Insolvency Service (The IS), publishes her 2013-14 Annual Report today. This is the 21st report since the formation of the office in May 1993.
Judy Clements writes "I am very pleased to present my Annual Report for the year 1 April 2013 to 31 March 2014. This is the sixth report I have presented about our work, and the 21st in the history of the Adjudicator's Office."
2013-14 was a very demanding and busy year for The Adjudicator and her office.
She goes on to say "This was the legacy from the exceptional workload received in 2012-13, from HM Revenue & Customs (HMRC) customers. In response we embarked on a Two-Year Recovery Plan that will take us through to March 2015.
My goal is always to provide the high standards of service our customers have the right to expect, and this has been at the heart of our work resulting in a new record in the 21 year history of the office for cases closed in a single year. We successfully resolved 2,350 complaints in the first year of our Recovery Plan."
A large number of the taxation cases reviewed related to PAYE and were considered under the provisions of HMRC's Extra Statutory Concession A19 (ESC A19). The majority of Tax Credit complaints received by The Adjudicator are about HMRC's refusal to write off overpayments.
The Adjudicator comments "The statistics from the work of my office are a stark reminder there is no place for complacency, particularly when this year 90% of HMRC customer complaints have been upheld…… We have successfully mediated 55% of cases received this year. I hope to see a significant reduction in mediated cases next year if all three departments continue to develop effective use of discretion and empower their front line staff to resolve issues at first point of contact, so customers feel the complaints process is timely and adds value."
The Adjudicator has continued to build strong relationships with HMRC, the VOA and The IS and all have been receptive to her feedback for service improvement. The number of complaints referred to The Adjudicator by customers of the Valuation Office Agency and The Insolvency Service remained stable and total numbers were low.
Notes
1. The Adjudicator's Office was set up in 1993, to look into complaints about the Inland Revenue (including the Valuation Agency). HM Customs and Excise and the Contributions Agency joined in 1995. From April 2003 the office took on complaints about The Insolvency Service. In April 2005 the Inland Revenue and HM Customs and Excise merged to form HM Revenue & Customs (HMRC).
2. Judy Clements OBE replaced the late Dame Barbara Mills DBE QC as Adjudicator in April 2009. She acts as an impartial referee when people are not satisfied with the way the departments have dealt with their complaint. She looks at complaints about handling issues, such as mistakes, delay, staff attitude, and quality of advice. She does not consider complaints about the law, or where an independent tribunal already exists for settling disagreements. Her recommendations are independent and her services are free to complainants.
3. This report covers the period 1 April 2013 to 31 March 2014 and is available free of charge from the Adjudicator's Office, PO Box 10280 Nottingham NG2 9PF. Telephone 0300 057 1111. It is also available electronically at www.adjudicatorsoffice.gov.uk
4. Further information about the office (including leaflets on how to complain) can also be obtained from the above address or website.
5. Statistics for the year to 31 March 2014 are below.
Statistics 2013-14(2012-13 in brackets)
HM Revenue

& Customs

Valuation Office Agency

The Insolvency Service

Total

Complaints taken on for investigation

1087 (2574)

27 (23)

17 (15)

1131 (2612)

Investigation cases completed

2311 (1354)

23 (11)

16 (14)

2350 (1379)

Number upheld either partially or wholly

2073 (818)

5 (1)

6 (2)

2084 (821)
In 2013-14, The Adjudicator recommended HMRC pay a total of £246,094 in compensation to complainants for worry and distress and poor complaint handling (£81,309 in 2012-13). She also asked HMRC to reimburse £180,615 for direct costs (£207,108 in 2012-13). The Adjudicator recommended that HMRC give up tax amounting to £1,899,780 (£210,138 in 2012-13) and that HMRC write off £2,042,769 in overpaid Tax Credits (£695,476 in 2012-13).
The Adjudicator recommended the VOA pay a total of £325 in compensation and £14,291 direct costs (previously no compensation or direct costs for 2012-13). The Adjudicator recommended The Insolvency Service pay £500 in compensation and £42,287 direct costs (£75 compensation and £1 direct costs in 2012-13). No recommendation was made for liability to be given up for either of these departments.