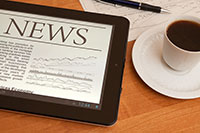 A team of leading practitioners have come together and written the STEP Advanced Certificate in Cross-Border Estates. The course deals with current issues such as the EU Succession Regulation, Rome IV Regulations and TIEAs.
The materials include practical examples from a range of jurisdictions and checklists so that the content can be related back to day-to-day office work. This is a distance learning course, so available to you wherever you are based in the world.
One of the course contributors, Dr Michael Wells-Greco TEP, a partner at Charles Russell Speechly, says:
"The course addresses civil, common and Sharia law succession systems and identifies where family law meets succession law. The aim was to try to identify the elephant traps and to explain difficult concepts simply, and I think we did the best job we could.
The reality is that very personal and sensitive areas of practice, such as succession law, mental capacity and family law, rarely join up internationally. This has led to a creeping privatisation of private client solutions, leaving a two-tiered system – one for the rich and one for the poor.
Considering some do not appreciate the interactions between civil and common law or the cross-over with EU law and treaty planning, it makes it all more important for clients to take advice from those with the necessary skill set."
Read the full interview here - www.step.org/cbe-interview
Find out more about the course and register at

www.step.org/cbe-tw