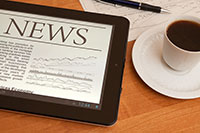 The Chartered Institute of Taxation (CIOT) has launched a report into environmental or green taxes as part of Nick Goulding's Presidential theme.
The report examines what is being done in this area and the options available to policymakers.
Nick Goulding, CIOT President, says: "This Report has been published at a time when there is an ever increasing recognition that we all live in a world facing harmful environmental change. There has been recent political change towards tackling these problems. With the election of Barack Obama as President, the US administration is now committed to negotiating a new climate change treaty and introducing a 'cap and trade' system."
The report makes it clear that non governmental activity in this area will simply not go away as environmentalists and other pressure groups step up their efforts to get governments to do far more to control emissions and protect the planet. One can say with some certainty that tax and other fiscal measures are expected to play an important role in tackling this worldwide problem.
Nick Goulding adds: "The question then becomes 'in what way will tax be deployed in achieving these environmental goals?' Will taxes be used creatively as agents to modify and change behaviour, or imposed in a blunt manner to penalise 'bad' environmental practices, possibly using the revenue to reward the environmentally 'good'?"
The report is being published on a dedicated micro site at http://www.greentaxreport.co.uk/. It can be read online and comments left after each chapter.