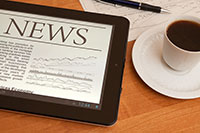 The Institute of Chartered Accountants in England & Wales (ICAEW) has unveiled its new corporate identity, which is the first significant change in identity in over 50 years.
The ICAEW's new brand and corporate identity has been developed following an extensive programme of consultation with the institute's members, staff, district societies and council.
The brand mark retains Economia, the female figure from the Institute's coat of arms, together with the symbols of the accountancy profession – the rod representing command, the rudder representing guidance and the dividers representing accurate measurement. These have been redesigned in a clearer, bolder and more contemporary style.
Representatives at the ICAEW said that the new identity is one part of a broader initiative to clearly define the institute today and set out its ambition for the future.
The ICAEW will manage the implementation of its new identity over the next twelve months in order to minimise costs which will come out of existing budgets. Existing stocks of letterhead and other printed material have been run down over recent months in anticipation of the launch of the new identity.
The identity is not just used by the institute but also by many of the members and firms entitled to do so. As part of the new identity, the ICAEW has introduced a specially designed logo for member firms. Member firms and other users of the ICAEW identity are also being encouraged to transition to the new identity within the next twelve months.
Images of the new identity can be downloaded from www.icaew.com/identity from Monday 8th January 2007.
Sarah Laing
Editor, TaxationWeb News