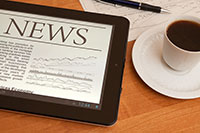 Keith Gordon has been named CTA of the Year at the LexisNexis Taxation Awards.
CTA of the Year awards those members of The Chartered Institute of Taxation who have made an outstanding contribution to tax and/or the tax community.
The judges considered five nominees from across the country. Keith was awarded the title because of his pro bono work, prodigious writing and work for the CIOT's London Branch as well as his day to day work at the Bar.
Andrew Hubbard, CIOT President, says: "I am delighted to congratulate Keith on his achievement. The award shows that Chartered Tax Advisers are not only focused on their jobs but also make valuable contributions to their communities. All of the nominees for this award are excellent standard-bearers for the CIOT and choosing between them cannot have been easy. I thank all of them for their contribution over the last year to the Institute and to the wider community."