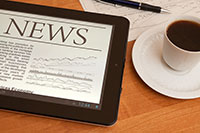 The Taxation Disciplinary Board (TDB) has announced the appointment of Neville Nagler as its first Executive Director.
The TDB is an independent body set up in 2001 by the Chartered Institute of Taxation (CIOT) and the Association of Taxation Technicians (ATT) to run the Taxation Disciplinary Scheme. Although financed by them, the TDB operates entirely independently in investigating alleged failures in professional conduct of their members or students and disciplining them as appropriate.
The new Executive Director had a distinguished career in H.M. Treasury and the Home Office, following which he served for fourteen years as Director General of the Board of Deputies of British Jews, the representative body for the British Jewish Community. Mr Nagler also serves as a lay member for the Bar Council's disciplinary processes, and is a member of the Lord Chancellor's Advisory Committee for Justices of the Peace in North West London.
Commenting on his appointment, Neville Nagler said: "I am delighted by my new appointment. I look forward to working with the Directors of the Board and with colleagues in the two parent bodies on the many challenges that lie ahead."
The Board's Chairman, Dr Vicki Harris, commented: "My colleagues and I are thrilled to have someone with Neville Nagler's background as our Executive Director. He comes to us with a wealth of experience, and we are confident that he will help the Board to maintain and develop its regulatory role efficiently and effectively."
The President of the Chartered Institute of Taxation, John Cullinane, welcomed Mr Nagler's appointment, commenting: "The CIOT has consistently supported the work of the TDB since it was set up, and we greatly look forward to strengthening our already close ties in the future."
The President of the ATT, Jean Jesty, added: "We welcome the TDB's decision to appoint its first Executive Director, and have every confidence that we shall be able to maintain and develop our good working relationships with our regulatory body, whose independence we particularly value."
Links
Chartered Institute of Taxation