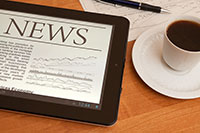 For the 3rd year running, TaxationWeb.co.uk, the UK's leading independent tax website, was ranked as one of the Top 10 UK accountancy websites, by Experian Hitwise.
Twice a year, Hitwise awards the 10 most popular websites across over 160 categories. From January - June, 2010, www.taxationweb.co.uk was ranked #7 in the Hitwise United Kingdom 'Business and Finance - Accountancy' industry based on monthly average market share.
The Hitwise UK Top 10 Awards Programme celebrates the most successful UK websites in 160+ online industries. As Hitwise reports on the anonymous online usage and search behaviour of more than 8 million UK Internet users — the largest online sample of its kind — this unique awards programme recognises excellence in online performance through public popularity.
Founded in 2000, TaxationWeb is the UK's largest independent tax website, visited by over 100,000 UK taxpayers and tax professionals every month. It has been voted by Hitwise as one of the UK's Top 10 accountancy websites since 2008.
Martino Matijevic, TaxationWeb's co-Founder said,
"We are delighted to be voted no. 7 UK accounting website. The success of TaxationWeb's popularity comes from its independence and wealth of information. During the past 10 years, our editorial team has compiled thousands of tax news items, articles, guides and expert analyses from a range of sources, catering for both tax professionals and general taxpayers.

One of our most successful strategies has been to launch the Tax Tips Forum, a free, open forum, bringing together taxpayers and tax advisers. The Forum encourages discussion, exchange of ideas and experiences and it is often the starting point to finding a qualified tax adviser."
Links