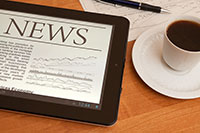 Welcome to version 3 of the TaxationWeb website. This is the third major site upgrade since we launched the website back in 2000.
Over the years we have been adding and removing bits and pieces to the website, and we have changed the design a few times, but this is the third time we have substantially changed the look and feel of the site.
For those of you who have been with us since TaxationWeb was founded, you may remember how we have grown from a small accountants' website to UK's largest independent tax portal. This has been done without venture capital, but simply by publishing relevant content, encouraging open discussion, and creating relationships.
Recently, we have seen a large growth in the number of visitors. Our server crashed twice in the past few months and it became obvious that we had outgrown our existing technical infrastructure. Consequently, we have now invested in brand new dedicated servers and have upgraded both the design and the software.
What has changed?
The content of the website remains unchanged but is presented differently. In the weeks to come, we will also be adding a comments feature, to allow you to voice your comments/questions on the item you are reading. We hope you will challenge authors' and contributors' views and we hope they will appreciate the feedback. In addition, we have had several requests asking for the ability to rate articles, so have added this function too.
TaxationWeb logo has been updated to simpler, more contemporary design.
Where is Tax Events and Tax Directory?
We are building dedicated sites for the Tax Events and the Directory of Tax Professionals sections, hence they have temporarily been removed from the main TaxationWeb site. Make sure you have signed up to our Newsletter, so we can keep you informed of the progress.
Problems?
We hope everything will run smoothly, but as I am sure you will agree, in the technology world, nothing ever does - we thank you in advance for your patience and support while we are sorting out any bugs.
We have always encouraged feedback and have listened to your comments, your criticism and your encouraging words. Please use the comments form on blog.dorifor.com (Dorifor is the company who developed TaxationWeb) to tell our web designers what you think of TaxationWeb v3 and what you would like to see in an eventual v4.
We look forward to hearing from you.