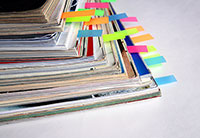 BOOK REVIEW: Taxation of Companies and Company Reconstructions (Ninth Edition)
Authors: Richard Bramwell QC, John Lindsay, Alun James, Julian Hickey, Michael Collins
Published by Sweet & Maxwell
The pace of change of new and amended tax legislation is alarming at times (well, to me at least!). It is therefore reassuring to know there are publications available that not only report important changes, but give expert commentary and analysis on them, to help busy practitioners provide up-to-date and relevant advice to their clients. 'Taxation of Companies and Company Reconstructions' is one such publication; its content may change, but thankfully its quality has remained constant over the years.

'Taxation of Companies and Company Reconstructions' is an impressive-looking looseleaf publication, which is divided into three volumes. The subjects covered are separated into divisions in alphabetical order. For example, the subject of the first division (A) is corporation tax, while the final division (W) covers reconstructions.
Helpfully, there are three update releases per calendar year included in the cost of the publication. The thickness of the latest update (i.e. Release Bulletin 22, published in December 2016) reinforces the point made earlier about the rapidly changing tax world we live in.
For example, Release Bulletin 22 updates the publication to reflect changes made in response to the imposition of a tax charge on non-UK resident companies that carry on a trade of dealing in or developing UK land. In addition, the new FA 1986, s 77A (i.e. on disqualifying arrangements in relation to stamp duty relief on the acquisition of a target company's share capital) is considered.
Some divisions in 'Taxation of Companies and Company Reconstructions' will be more relevant and frequently used than others, depending on the particular interests and type of work undertaken by practitioners. The most useful and relevant sections for me include: A (Corporation tax), D (Close companies), E (Distributions), G (Intangible fixed assets), K (Loan relationships) and W (Reconstructions). However, the division which I refer to most frequently is the final one on reconstructions, not least because of the valuable commentary on the 'transactions in securities' anti-avoidance provisions. There is also helpful commentary on the targeted anti-avoidance rule treating distributions in a winding up as dividends. In addition, Division E on distributions includes a chapter (E4) on companies purchasing their own shares, which has been a regular part of my work over the years.
Generally speaking, this publication should contain 'something for everyone' involved in corporate tax, corporate restructuring and company tax planning work to any significant extent.
'Taxation of Companies and Company Reconstructions' is written to a very high technical level. This should come as no surprise if one reviews the author list, with eminent authors including Richard Bramwell QC, Alun James and Julian Hickey. Despite the technical complexity of the subjects covered, the commentary is written in plain, everyday language (so far as the subject matter allows!) and in a manner which is precise, and is easy to digest and understand. The commentary has been structured so that the commentary on subjects gradually increases in technical analysis to cover some of the finer points in greater detail. It includes coverage of important case law, footnotes for statutory references etc. and numerous worked examples, together with diagrams where appropriate, to assist comprehension further.
A relatively small number of tax publications have been around for a considerable length of time. This is no doubt a reflection of their quality, usefulness and popularity. 'Taxation of Companies and Company Reconstructions' is one such publication. Indeed, the first edition of this book was published in 1973! Over the years, it has become probably the leading authority on company taxation; it provides authoritative but practical guidance on some complex areas of tax law.
An online version of 'Taxation of Companies and Company Reconstructions' is available via the WestlawUK service. There is no CD version of this publication. As a three volume looseleaf publication is not the most portable of formats for users, an e-book would be a very helpful feature for the publishers to consider developing in the future.
The cost of a new subscription for 'Taxation of Companies and Company Reconstructions' including three updates a year is £1,209 (or the renewal cost of an existing subscription is £989 per annum). Tax publications generally tend to be relatively expensive, but the cost of this tax publication is probably at the higher end of the scale. However, in this case the cost is perhaps a fair reflection of the quality of the publication and the expertise of its authors. Those who regularly advise on corporation tax and company reconstructions should find it a worthwhile investment.
In conclusion, 'Taxation of Companies and Company Reconstructions' is a high quality, high level publication. It is surely an essential tool in the corporation tax specialist's armoury of technical and research materials. It should also be a useful addition to the tax library of non-specialist practitioners with corporate clients, especially when exposed to corporation tax issues that are perhaps unusual and outside the scope of their day-to-day work, particularly corporate restructuring work.
Further information and ordering details are included on the Sweet and Maxwell website
here