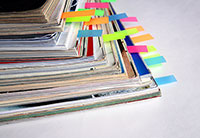 Tolley's Practical Tax by Mark McLaughlin ATII TEP
Tax planning for Valentines Day! Ten tax tips for for young (and old) lovers!It's Valentines Day - a time for couples to show each other how much they care. And if it can be done in a tax-efficient manner, then so much the better! Here, Tolley's Practical Tax offers its more romantic readers the top ten 'tax tips for a twosome'.
(1) A romantic dinner for two
Remember that this is supposed to be pleasure, not business, so don't try to claim the cost of your dinner or hotel stay as a business expense!
On the other hand, staff entertaining can be claimed, so if your loved one is your only employee, why not have a Valentine's Day party? Bear in mind the £75 per head limit for benefit-in-kind purposes, to avoid any unexpected tax bills.
(Extra Statutory Concession A70)
(2) Tax relief for your Valentines Day gift?
Looking for that special gift idea? Not excited by flowers or chocolates? Spoil your loved one with a gift of something (other than food, drink, tobacco or a gift voucher) bearing a conspicuous advertisement for your business.
A tax deduction may be claimed, but don't get too carried away - the cost of the gift must be no more than £10.
(TA 1988, s 577(8))
(3) What's mine is yours
Consider transferring assets to your spouse. Gifts between spouses living together are normally made a 'no gain, no loss' basis for capital gains tax purposes, and are completely exempt from inheritance tax between United Kingdom domiciled spouses. Such gifts can utilise unused capital gains tax losses and annual exemptions, and equalise estates for inheritance tax purposes to use the nil rate bands of both spouses.
Outright gifts of income producing assets can also take advantage of income tax allowances and rates, but don't get caught by the 'settlement' provisions.
(TCGA 1992, s 58(1), IHTA 1984, s 18(1), TA 1988, s 660A)
(4) Be generous - but don't get carried away!
Before you get too misty-eyed and make any inter-spouse transfers of business assets, consider the implications of capital gains tax retirement relief and taper relief.
Would your gift be a business asset in the hands of your loved one, and would the holding periods of both spouses be taken into account on a subsequent disposal?
(TCGA 1992, Sch A1 para 5, Sch 6 para 16)
(5) Planning a rosy future together
Consider giving a romantic stakeholder pension to your partner. Even if your beloved has no earnings (or is earning less than £30,000 a year) it may be possible to contribute up to £3,600 per annum into a stakeholder pension.
And don't forget a stakeholder pension for the kids! Why not fund some of the contributions out of any tax saving from the Children's Tax Credit, from 6 April 2001?
(6) Keep it in the family
Why not employ your loved one?
Make sure the salary is commercially justifiable, recorded in the books and records and physically paid.
Beware the national minimum wage rules (except for spouses working in the family business and sharing the matrimonial home), especially if you don't end up walking hand in hand into the sunset.
(7) Wedding bells
Getting married? Does your beloved have wealthy parents?
What about dropping a subtle hint about the £5,000 inheritance tax exemption for gifts in consideration of marriage by each parent?
(IHTA 1984, s 21)
(8) Diamonds are forever
Are you still waiting to receive that diamond ring? Remember that there is no capital gains tax charge on the disposal of certain 'wasting' chattels, i.e. an asset with a predictable useful life of 50 years or less. As 'a diamond is forever' trying to classify it as a wasting asset is likely to be problematic. However, if its value is less than £6,000 the gift will in any event be exempt from capital gains tax.
(TCGA 1992, ss 44, 262(1))
(9) Share and share alike
Wishing to make an extravagant gesture? Why not gift your spouse between £500 and £150,000?
They could use the money to invest in the shares of an enterprise investment scheme company, and potentially obtain income tax relief on 20% of the investment. Husband and wife may each subscribe up to £150,000 and claim the relief. Alternatively, a transfer of enterprise investment scheme shares to your spouse should not result in any withdrawal of relief, if you are both living together.
(TA 1988, ss 290, 304(1))
(10) Are you lonesome tonight?
Have you been working abroad for 60 days or more? Missing your loved one?
Why not arrange for your spouse to visit you? A Schedule E deduction may be claimed for certain travelling expenses of your spouse, which are paid or reimbursed by your employer. This includes up to two outward and two return journeys in the same tax year.
(TA 1988, s 194(2))
And so...
One final thought. If the big day does not go according to plan and your Valentine's Day tax planning activities are not well received, don't worry. The inter-spouse exemption for capital gains tax purposes applies throughout the whole of the tax year of separation!