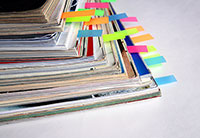 TaxationWeb's Mark McLaughlin wishes HMRC would come clean over its suspicion of trusts.
HM Revenue & Customs (HMRC) published the consultation document Ineritance Tax: A Fairer Way of Calculating Trust Chargess on 6 June 2014. This is their third consultation in this area.
The subject of the consultation is "Simplifying the calculation of Inheritance Tax (IHT) charges on trusts at ten yearly intervals or when assets are transferred out of the trust and making fairer the way the nil-rate band is allocated as part of those calculations." Unfortunately, this is not just about simplification. The proposals will restrict the 'nil rate band' available to many trusts when calculating IHT charges.
It is disappointing that the government insists on using 'simplification' as an excuse to change the law in this way, particularly since the proposals arguably do not represent simplification at all. It always makes me shudder when HMRC use the word 'fairness'. Fairness is in the eye of the beholder, and in my experience HMRC's perception of fairness very often differs from the perception of taxpayers and their advisers; and it often involves more tax as well. At least HMRC has dropped 'simplification' from the title of this consultation document.
The crux of the 'fairness' element of the proposals can perhaps be summed up by the following statement in the document: "...we believe that it is right that there should be one nil-rate band available for those individuals settling property into trust just as there is only one nil-rate band available to an individual transferring assets on death." Comparing individuals who are living and dead is an interesting analogy. A living person can broadly give away assets up to their nil rate band every seven years; so in effect, they get a 'new' nil rate band after seven years. A dead person cannot undertake a similar exercise, because they are dead. Is this a cogent argument for potentially restricting the nil rate band available to trusts?
Space does not permit me to elaborate on the difficulties and flaws in HMRC's proposals. However, it is apparent that HMRC is determined to push these changes through. A fourth consultation is unlikely, so it is important to consider the existing one and respond as appropriate, before the deadline of 29 August 2014. The consultation can be accessed at:
Inheritance Tax: A Fairer Way of Calculating Trust Charges
Best wishes,
Mark McLaughlin
Managing Editor